Travel
Time
Travel Time is a family-owned tour operator and travel agency located in Tbilisi, Georgia.Company was founded in 2013 and since that humble beginning, our dedication to creating outstanding travel experience, has grown into a trusted resource, that has helped of thousands of people better enjoy their travel. Now describing our team, we can say, that we are a group of people, who passionate to travel, to explore, to discover. Our team here is friendly and affable. We are specialists in the destinations that we offer and possess deep product knowledge about them.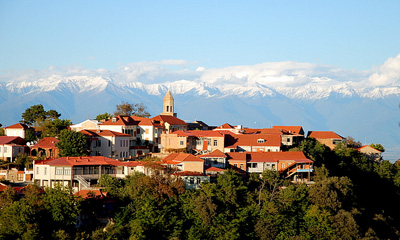 Kakheti
Kakheti is the historical and largest region in the East of Georgia. Kakheti is one of the oldest centers of viticulture and wine production. This peculiarity has a significant impact on the tradition and culture of the country, which ultimately creates a characteristic, colorful character of this corner, and at the same time adds a constant, characteristic painterly line to the unified Georgian historical and ethnographic canvas.
Kakheti is distinguished by an abundance of cultural monuments. The most popular seasons to visit this region is autumn, because you will be able to see on your own the winemaking process and even to participate in it. All other seasons are also very attractive in this region - Kakheti, with its centuries-old culture, is very rich in monuments of different periods. Here you will find ancient settlements, interesting and distinctive medieval temples, which were also important cultural and educational centers, impressive castles, Tush towers, and slate houses. Tusheti is inscribed in the tentative list of the UNESCO world heritage. the village Bochorna is situated there, which is the highest settlement in Europe above sea level. Maybe, you heard about most dangerous road in Georgia - yes, it's Tusheti's roads... This region is also unique and diverse in terms of nature. There are many waterfalls and rolling lakes hidden in cool greenery in Kakheti. Vashlovani Protected Areas are also worth of reminding - On the territory of the national park you will find open fields, desert and gorges, which will make you feel alive and free and these areas will always call you back in your head.
Adjara - Batumi
Batumi is a city which visitor find easy to fall in love with, thanks to its unique blend of subtropical coastline and beaches, framed by spectacular snow-capped mountains and boasting legendary nightlife.
Just 9km north of Batumi at Green Cape there is Batumi Botanical Garden which is popular for thousands of beautiful species of plants. Thanks to Adjara's unique micro-climate, gardens can grow an astonishing variety of plants from different regions and climates, all side by side. Marvel at the full impact of so many species together in one place, or simply breathe in the scent from these spectacular plants. Adjara is not only a seaside - it is a region of one of the oldest traditions in Georgia - tradition of hospitality. First "hostels" were built in mountainous Adjara and Adjarians were hosting strangers, who needed overnight and food. This region is mix of two religions - Christianity and musulmanity and good example of co-living in peace. Rich history, tasty cuisine, nature full of gems - lakes, waterfalls, rivers, modern architecture, sunny beaches, warm water - this is Adjara!
Samtskhe-Javakheti
This region that never stops surprising visitors, from the mineral springs of Borjomi to the ancient cave city of Vardzia or other less known ones. Historically one of the most important cultural centers in Georgia, much of the region today is virtually unknown to tourists, but this ancient land of cave cities and hilltop monasteries is once again opening its doors to the outside world.
This region is very diverse – if you want to feel the history and touch it, you must visit cave city of Vardzia. You want to relive the history – you go to Rabati Castle. For some relax you can swim in Sulphur hot springs. Want some birdwatching tour – you are welcome, this region is popular with its big variety of birds, which are attracting ornithologists from all over the world. This is a region of steppes and lakes, gorges and rivers and the tastiest trouts! If you want to drink the most popular mineral water of Georgia known worldwide, it is also in this region, sure you have heard about Bordzomi. An amazing region worth adding to your itinerary!
Georgian military road
These monumental mountains which are calling you to visit Georgia are on every step in every region - Georgian Military Road is one of them... Watchtowers and shelter hewn from the rocky cliffs, water reservoirs and castles, monasteries and passes, ski resorts and sour waters, waterfalls, gorges and lakes, travertines, changing climate zones and scenery from greenery to snow just in a hour of drive.
Serpentine road built in the widest middle part of Greater Caucasus Range used by traders before and now being one of the main transit roads connecting different parts of the continent to each other. And this everything just in a 150 km from the capital of Georgia.
ski resorts
Georgia is always a good choice for your vacations and it doesn't matter which season is it… Whether you enjoy downhill skiing, or snowboarding, there are ski resorts that cater to your needs. The mountains here are exceptional because of the Caucasus Mountains and the ridges, that keep the harsh arctic cyclones away from the country. November to May are rather mild, with a pleasant wind coming from the Black Sea. Snow falls systematically, nevertheless severe frosts are very rare. Don't forget, that the currency here is a GEL, so prices for equipment, food and hotels are more affordable and at the same time you are getting high quality service and amazing fluffy snow to ski!

There are 5 main ski resorts in Georgia: 1. Bakuriani ski resort is situated at an elevation of 1,700 m. above sea level. It is a paradise for ski lovers and an internationally important winter sports center, which meets Olympic standards. Ski resort has an infrastructure, including: hotels, ski lifts, a funicular, a cinema, a children's park, and numerous other attractions. 2. Gudauri ski resort - The resort is 30 years old, but in this short time it has gained great popularity among ski enthusiasts. Gudauri finds itself at 2,200 m. above sea level and its ski season lasts from December to April. Today, Gudauri is an international mountain-skiing resort of the highest standards, designed for skiers of all levels. 3. Goderdzi ski resort This all-season mountain resort is located at an elevation of 2 000 meters. The resort is dignifiedby the extraordinary nature, fresh air, spectacular scenery and well equipped 4 ski pistes with total length of 8 kilometers. Slopes at the resort are targeted for all skiers. Snow remains from November till April. 4-5. Tetnuldi and Hatsvali - Both of them are situated in Svaneti - the pearl of Georgia. It is one of the newest skiing areas in Europe. With a top elevation of 3,160 m., snow quality & quantity is guaranteed to be deep, dry & delicious. Besides of crazy slopes and trails, this ski resorts will blow your mind with scenery around - Svaneti is a place, which you must visit, if you want to say, that you have been to Georgia!
capital of georgia -tbilisi
According to the legend, the lands of Tbilisi were covered with forest, where, while hunting, king discovered hot spring. Due to the healing properties of the hot water and the favorable location of the place, the king cleared the forest and started building the city. He planned to move the capital from Mtskheta to Tbilisi, his son Dachi completed the construction of the city and declared Tbilisi the new capital of Georgia in the 6th century. "Tbili"— means "warm" and "sio" - "spring", because of that the city was named Tbilisi, what means hot spring.

The warm and congenial city of Tbilisi never fails to impress visitors with its extraordinary and distinctive charm. Expect to be welcomed by friendly, cheerful citizens who are ready to meet with international tourists with a sympathetic handshake. With more than 1.5 million residents, Tbilisi is Georgia's largest city, as evidenced by its intense construction efforts: rapidly developing residential complexes, shopping malls, and entertainment centers have burst onto the scene and are now intertwined with the city's old, enduring architecture. .
At Travel Time you will deal with the same travel expert from the moment of initial contact until you are safely back at home. We care about your emotions, we care about your unforgettable memories, we care about the quality of all of the parts of your trip. Quality is our main focus! At Travel Time we strive to earn repeat business from you and want you to recommend us to your friends and family. Your referrals are extremely valuable to us and we know that we have to work diligently to deserve them. By sharing with you the hidden places not mentioned in guidebooks, the local people you wouldn't otherwise meet and the traditions you may not have experienced by yourself, we ensure that you get an true and rise experience you simply soul.

Best time to visit Georgia
If you're going to travel in Georgia and also interested in exploring, for the first time, you need to choose the correct session. The best time for excursions begins in May, and it will continue till September.

Winter Tourist Destinations in Georgia
The winter season in Georgia is so magnificent because you can do so many things. Here are so many locations for resting, for example the most popular destination is Gudauri which has so many visitors every year.

Signagi
With its long history, tiny town centre and breathtaking views of the Alazani Valley, Signagi never leaves its visitors not satisfied. Another you must see Bodbe Monastery. It's Located just two kilometres from Sighnaghi, the area is a important religious place there is a the remains of St. Nino, the saint who brought Christianity to Georgia

Borjomi
Borjomi Municipality is one of the best places for recreation, mountain sport, hiking or to get acquainted with centuries-old patterns of Georgian culture. There are a lot of hiking trails with forests, panoramic views and lakes.
Things to know before traveling Georgia
Everyone is surprised how inexpensive the food here is. Check the local markets and buy some fresh vegetables and fruits from local farmers. If you are not a big fan of cooking, you can enjoy a wide array of cafes and restaurants each day without breaking the bank.

Tour Places of Georgia
Rabati castle is a beautiful blend of Christian and Muslim architecture. Don't miss this place if you will be in Samtskhe-Javakheti Region, but take a guided tour inside to hear the history and legends about this place! Scroll to the right to see more photos snd videos from this place.

Best places to visit in georgia
The 60km drive into the wilderness from Akhaltsikhe to the cave city of Vardzia is as dramatic as any in Georgia outside the Caucasus mountains. The road follows the upper Mtkvari River.

The Towns of Georgia
And here we are! Batumi - city of sunsets... city of life...city of sun...city of cities! Yesterday Batumi met us with such an amazing views and mega nice weather!